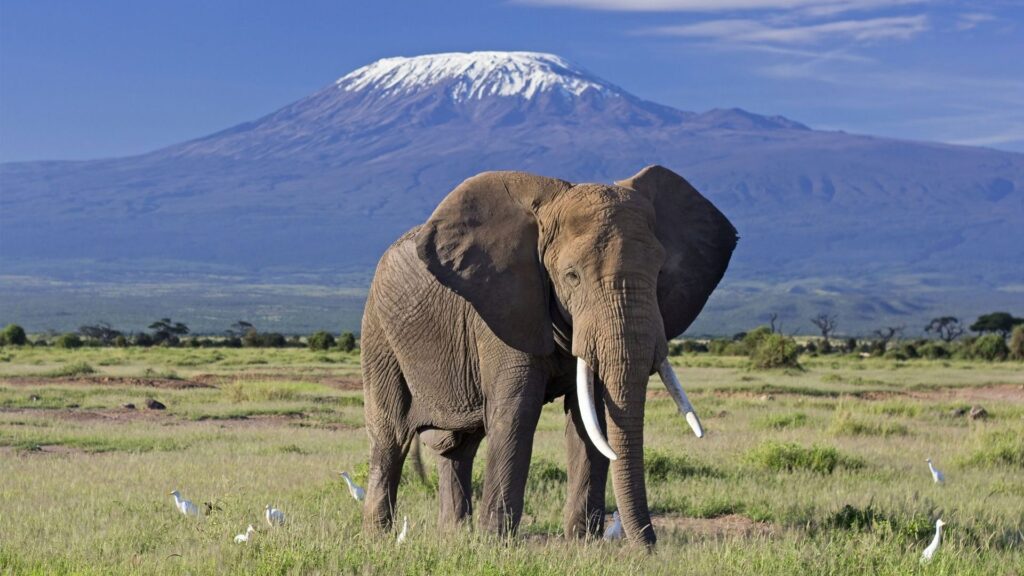 "Home of the African Elephant" – Crowned by Mount Kilimanjaro, Africa's highest peak, the Amboseli National Parks is one of Kenya's most popular parks.

The name "Amboseli" comes from a Maasai word meaning "salty dust", and it is one of the best places in Africa to view large herds of elephants up close. Nature lovers can explore five different habitats here ranging from the dried-up bed of Lake Amboseli, wetlands with sulphur springs, the savannah and woodlands.

They can also visit the local Maasai community who live around the park and experience their authentic culture. – Amboseli offers great wildlife viewing, and four of the Big Five are present. Rhinos are absent, but big herds of elephants reliably move to and from the marshy swamps in the center of the park. Buffalo, wildebeest, Burchell's zebra and gazelle are all very common. Lions are the easiest to spot of the big cats, but sightings are hit-and-miss.
Park fees(For non-residents)
All activities(Unless labeled as optional)
All accommodation(Unless listed as upgrade)
A professional driver/guide
All transportation(Unless labeled as optional)
All Taxes/VAT
Roundtrip airport transfer
Meals(As specified in the day-by-day section)
Drinking water(On all days)
AMREF Flying Doctor Service in the event of an a serious incident or accident
International flights(From/to home)
Additional accommodation before and at the end of the tour
Tips(Tipping guideline US$10.00 pp per day)
Personal items (Souvenirs, travel insurance, visa fees, etc.)
Government imposed increase of taxes and/or park fees
Amboseli Serena
Oltukai Lodge
Tortilis Camp
Kibo S. Camp