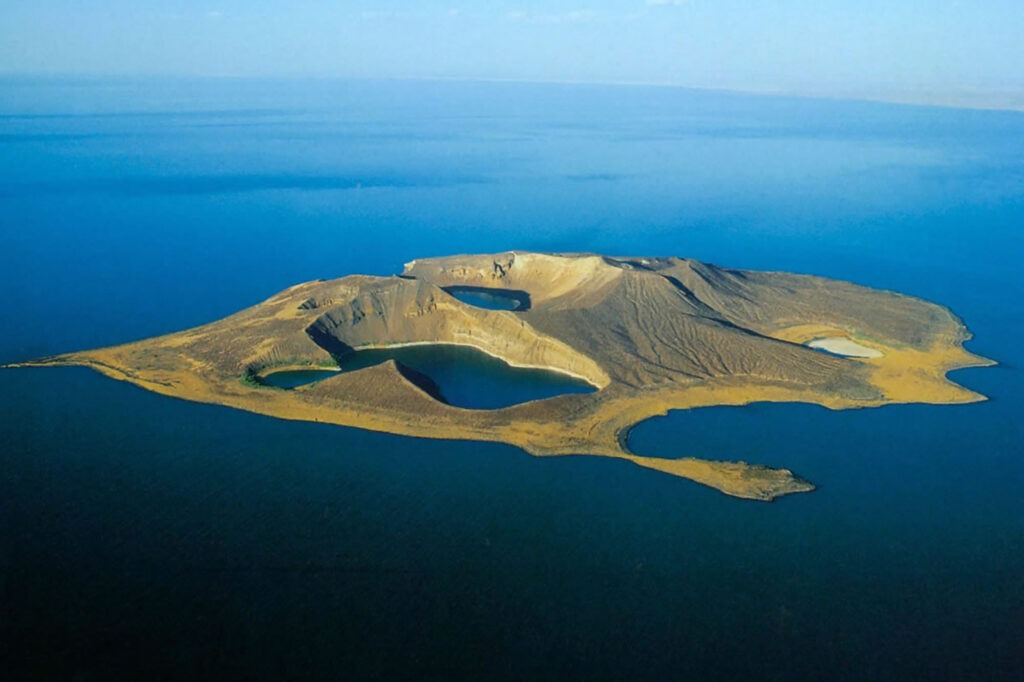 Lake Turkana, a UNESCO World Heritage Site, is the largest alkaline lake in the world, and the largest lake of any kind in a desert. The area is inhospitable – but eerily beautiful – and the lake's three islands are a stopover for migrant birds and a breeding site for crocodiles and hippos. Scenery, cultural visits and bird watching are the main attractions.

"The Cradle of Mankind" – Sibiloi National Park
Located on the wild and rugged shores of Lake Turkana – the cradle of mankind – Sibiloi is home to important archaeological sites including Koobi Fora where the fossil remains have contributed more to the understanding of human evolution than any other site in the continent.

The area is characterized by semi-desert habitat and open plains flanked by volcanic formations including Mount Sibiloi, where the remains of a petrified forest can be seen. Sibiloi serves as a stopover for migrant waterfowl and is a major breeding ground for the Nile crocodile.

Terrestrial wildlife includes zebras, Grant gazelles, lions, leopards, stripped hyenas, Beisa Oryx, greater kudu, cheetahs and northern topi among others. A total of over 350 species of aquatic and terrestrial bird have been recorded in Lake Turkana. Sibiloi is surrounded by the Turkana, the Gabra and the Dassanach who are communities with very rich and unpolluted traditional cultures.

The Isle of Mystery" –South Island National Park
Covered end to end in volcanic ash, the nightly glow of its South Island's luminous vents has inspired numerous tales of ghosts and evil spirits. The island is home to a profusion of birdlife including 34 species of European migrants most spectacularly viewed as they return home between March and May.

At least 23 species breed here, including Goliath heron, and African skimmer, while African open-billed stork, Duck and Gulls feed on the shores and the volcanic island lakes attract lesser flamingos. Birds of prey are also abundant, especially swallow-tailed kites. This park is ideal for game watching and has one of the world's largest concentrations of crocodiles.


Park fees(For non-residents)
All activities(Unless labeled as optional)
All accommodation(Unless listed as upgrade)
A professional driver/guide
All transportation(Unless labeled as optional)
All Taxes/VAT
Roundtrip airport transfer
Meals(As specified in the day-by-day section)
Drinking water(On all days)
AMREF Flying Doctor Service in the event of an a serious incident or accident
International flights(From/to home)
Additional accommodation before and at the end of the tour
Tips(Tipping guideline US$10.00 pp per day)
Personal items (Souvenirs, travel insurance, visa fees, etc.)
Government imposed increase of taxes and/or park fees
Oasis Lodge Lobolo Tented Camp
National Museums of Kenya
Koobi Fora
Sunset Strip Camp
Turkana Campsite